Hospice of West Alabama (HOWA) wants to ensure that end-of-life care is always there for the families of West Alabama, no matter what the future brings, and we are asking for our community's help. The Hospice of West Alabama Patron Society has been established to secure annual funding from donors, to support the operations of our agency, and to appropriately recognize those donors. Individuals who contribute $2,000 or more annually, and businesses, foundations, or other organizations that contribute $5,000 or more annually, are eligible to become members of the society.
Patron Society members will be recognized on a plaque prominently displayed in the HOWA inpatient facility, on the HOWA website, and in the HOWA annual report. Additionally, society members may designate their contributions as memorial or honor donations, and HOWA will provide acknowledgments of the gifts as designated.
Join the Hospice of West Alabama Patron Society by completing the form below. Not ready to donate the full amount? Click here to submit a different amount and indicate the donation is for the Patron Society in the "Additional Comments" box at the end of the donation form.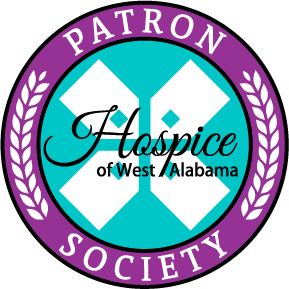 Thank you to our current Patron Society members!
Melanie and Claude Edwards
In memory of our parents, Betty & Alvin Edwards, Eunice & Wilton Gay
In memory of Thomas L. Jones
Dr. and Mrs. George Miller